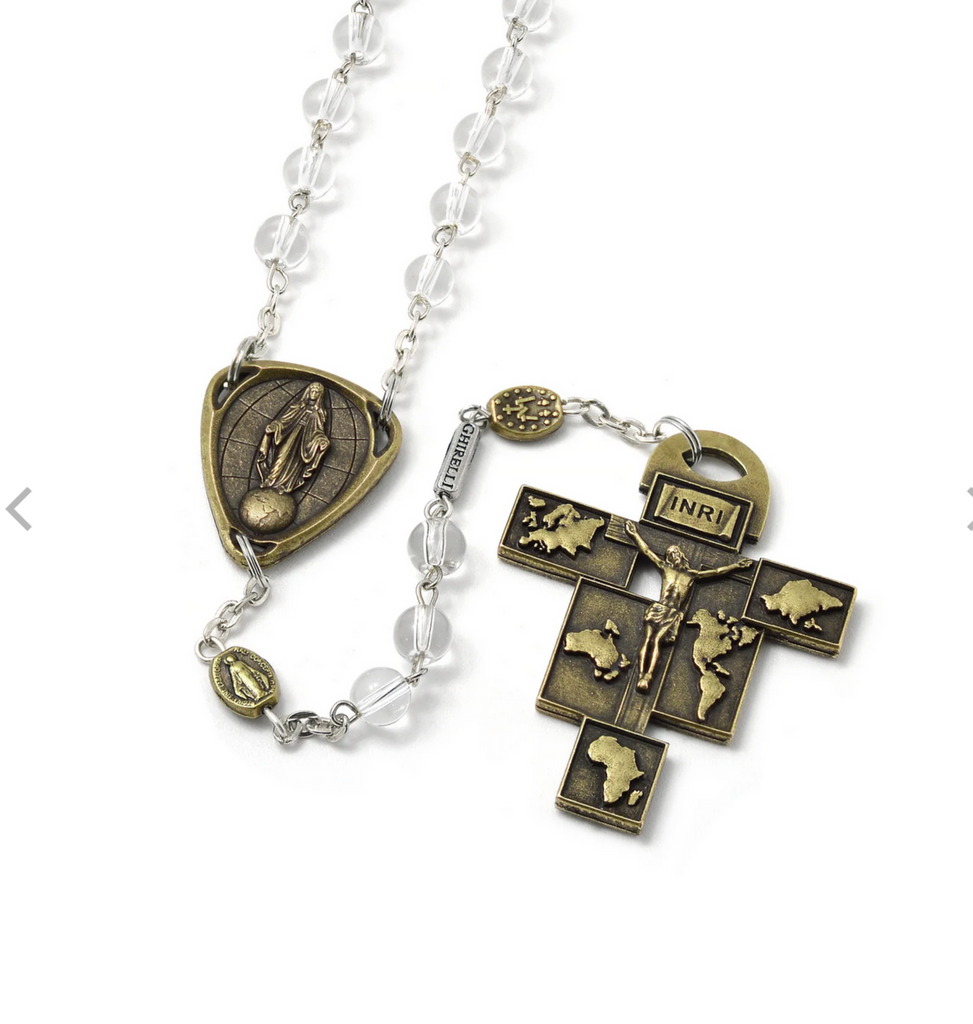 World Peace Rosary in Antique Bronze By Ghierlli
World Peace Rosary in Antique Bronze By Ghierlli
INSPIRATION
"The Rosary is the fighting weapon of the spiritual battles of the last times."


Peace comes from God as war comes from Satan and not only divisions between nations but also in families and between people.

"There is no problem however difficult it may be temporarily or spiritually; whether it refers to the personal life of each one of us or the life of our families, the world or religious communities, or the life of peoples and nations; there is no problem, I repeat, however difficult it may be, that we cannot solve now with the prayers of the Holy Rosary." -- Sister Lucia do Santos, seer of Fatima



WORLD PEACE - ROSARY 
Introducing a work in which Ghirelli design creates a Rosary that talks about the Peace that only comes from Jesus.

A design that represents the continents, torn by divisions and struggles disposed around Jesus Crucified, Prince of Peace. In the center of the Rosary appears Mary, Queen of Peace, watching over the world, inviting and encouraging prayer. 

THE CRUCIFIX
"Blessed are the peacemakers, for they shall be called children of God." (Mt 5:9)
World Peace Rosary in Antique Bronze By Ghierlli

Continents are represented on the unique Crucifix, uniting them with Christ in the pain of wars, poverty, and persecution.

In the suffering of people of every race and population.
Jesus, on the Cross seems to draw peoples to Himself to give true peace because "by His Holy Cross He redeems the world."

CENTERPIECE
"God wants to establish in the world devotion to My Immaculate Heart. If they do what I tell you, many souls will be saved and have peace. The war is about to end. But, if they do not stop offending God, during the pontificate of Pius Xl, another worse one will begin." -- Our Lady to Sister Lucia do Santos

The Centerpiece is inspired by these words said by the Virgin to Sister Lucia on July 13, 1917. The Immaculata, between the meridians and parallels of the terrestrial globe, is in a maternal attitude, ready to concur all the graces and help needed if asked with faith.
BEADS
Features 6 mm Bohemian Glass beads. Our Father medals, as miniature Miraculous Medals, in 8x6 mm size.

SIGNATURE
Ghirelli Branding Bar shows authenticity and Made In Italy Quality Assurance.