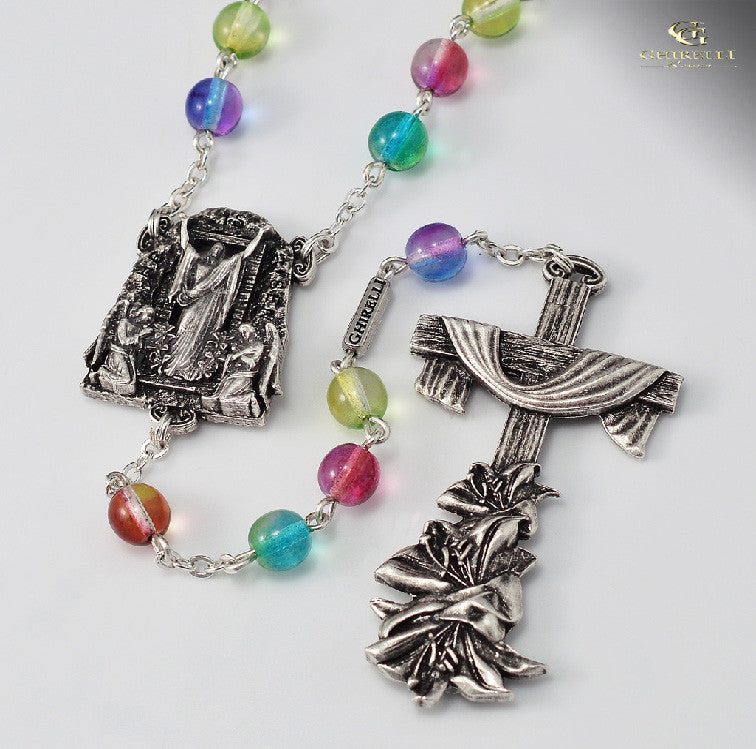 Holy Easter Multi Color Bead Rosary By Ghirelli
Holy Easter Multi Color Bead Rosary By Ghirelli
This rosary is simply divine as it has Jesus as he is rising up from the tomb. The crucifix is adorned with Easter lily. The trumpet shaped flower represents purity, innocence and hope.
Beautiful rosary honoring the glorious Easter season. Available in 7 mm glass Bohemian multicolor beads, © Ghirelli.
Silver plated finish with Ghirelli brand plate. The Antique Silver centerpiece features an artistic reproduction of Carl Heinrich Block masterpiece "The Resurrection of Christ" (1875).
The Crucifix is inspired by the Gospel passage "Why do you seek the living one among the dead?" Luke 24:5 , "he bent down and saw the burial cloths there, but did not go in" John 20:5, antique silver plated finish.
Shipped with complimentary hypoallergenic leatherette pouch with Ghirelli logo.
Box: Venezia. Rosary 22" Crucifix 2-3/16"