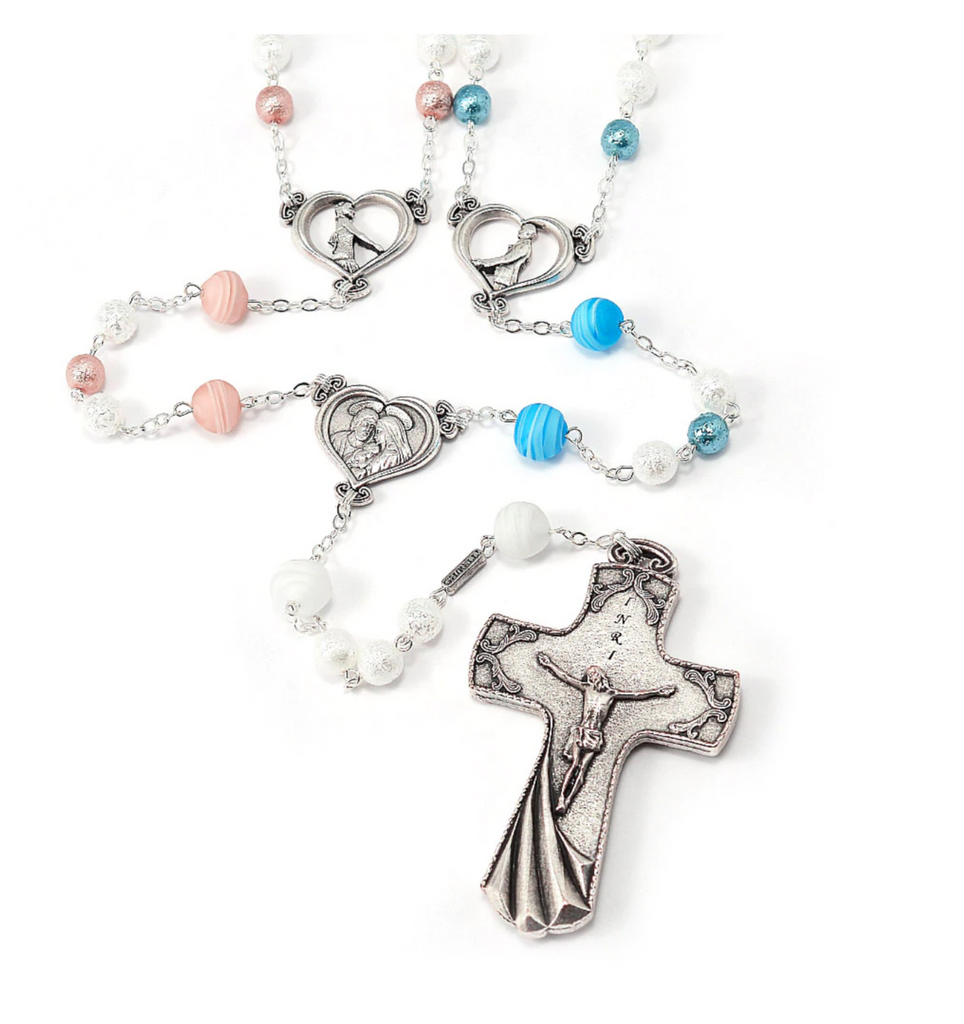 El Lazo Wedding Lasso Rosary with Murano Glass - Ghirelli masterpiece
El Lazo Wedding Lasso Rosary with Murano Glass

The new El Lazo Wedding Lasso Rosary is truly a Ghirelli masterpiece -- honoring the Holy Sacrament of Matrimony. It's the perfect gift for a Bride and Groom as the embark on a lifelong journey of faith and love. This beautiful rosary features Genuine Murano Glass accent beads and two rosary sets joined at the Centerpiece.
Beads: 8 mm size Bohemian glass beads with ice/frosted effect colors: white, pink and blue. Accented with Genuine Murano blown glass in 10 mm size beads and veined and satin-finish white, pink and blue colors.
Crucifix: A unique Ghirelli creation for a momentous occasion and celebration. The shared faith of the couple represents the bond of this great Sacrament. On the back a newlywed couple, holding hands, walk the path that will lead them to the altar and together on the path of a life in communion with the Love of Jesus. With antique gold accent finish highlighting the two wedding rings. Also text featuring the four "goods" of marriage: Faithfulness, Fruitfulness, Permanence, and Love.
Centerpiece: On the front the married couple hold hands; at the middle the intersection of the heart takes shape the Faith of the two joined together in Holy Matrimony, symbolic of their Love founded on Christ. On the back, an image of the Holy Family
Finish: Antique silver
Style: Classic
Details: Cross with enamel hand-painted by master decorators
Signature: Ghirelli Branding Bar shows authenticity and Made In Italy Quality Assurance