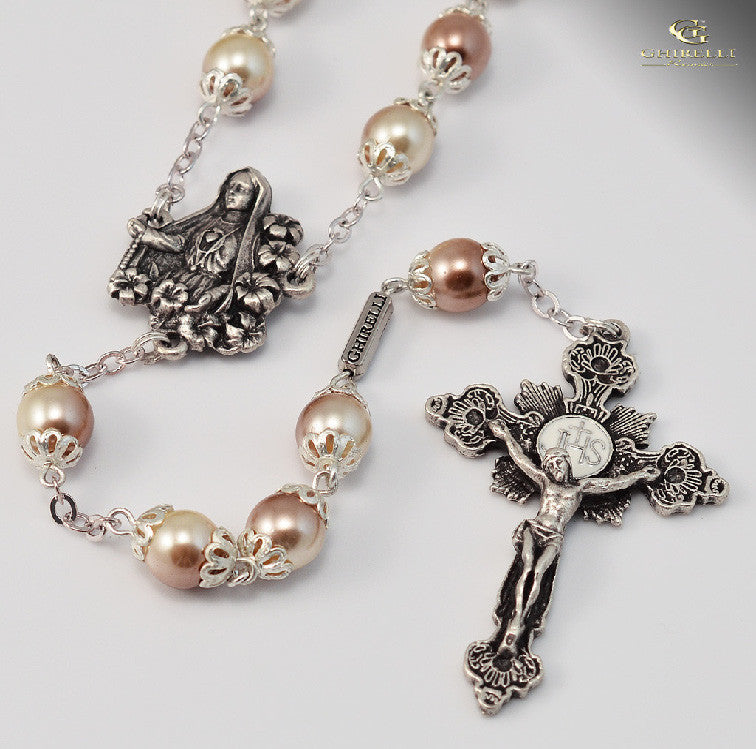 Our Lady Of Fatima Silver Plated Rosary By Ghirelli
The Our Lady of Fatima rosary is exquisite as the Blessed Mother is adorned with flowers. The IHS symbol is at the center of the crucifix.
Fatima silver plated Rosary, 8 mm Bohemian  glass beads with pearly effect, "Immaculate Heart" Centerpiece and Eucharistic Crucifix with hand-enameled inserts, © Ghirelli. 8 mm Bohemian  glass beads, two-tone pearly finish. Silver plated finish with caps and Ghirelli brand plate.
Centerpiece featuring three-dimensional Immaculate Conception Heart among lilies, symbols of purity, antique silver plated finish.
Eucharistic Ostensory crucifix with hand-enameled Host inspired by the Real Presence of Jesus in the Most Sacred Eucharist and by the Gospel passage "I am with you always." Matthew 28:20
Antique silver plated finish.
Box: Venezia. Rosary 26" Crucifix 2"