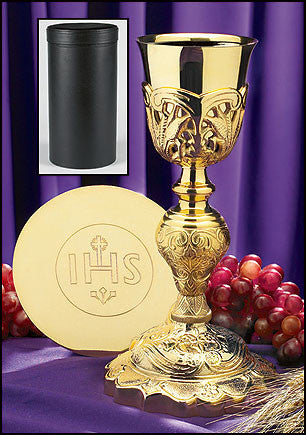 Coronation Chalice with IHS Paten & Case For Communion
Coronation Chalice with IHS Paten & Case For Communion
Can be used in Church, Chapel or Mass services.
Made of Brass/Gold Plate, Leather Case
Chalice Holds 8 oz, Measures 3 1⁄2" Dia x 10 1⁄2" H ,
Paten 5 1⁄2" Dia Paten, 6" Dia x 12" H Case
Our Coronation Chalice with IHS Paten and Case was exclusively designed for and manufactured using only high quality materials. Each piece is crafted of lead-free, 100% food safe brass and then gold plated to meet our high quality standards. The cup, base and node are all ornately decorated while the paten is engraved with the letters "IHS". The set comes shipped with a leather carrying case that comfortably holds both pieces. It is truly an exquisite set at an unbeatable value.