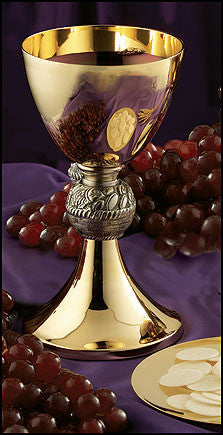 Loaves and Fishes Brass Communion Chalice and Paten
Loaves and Fishes brass communion chalice with paten. Used for communion during mass and church services. All chalices, ciboria and patens are made of lead-free, 100% food safe brass then gold plated to meet high quality standards.
Made of Nickel Plate Holds 12 oz.
Measures at 4" Dia x 8" H, 5" Dia, Paten