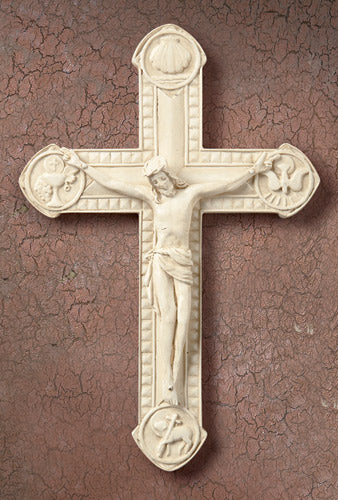 RCIA Jesus Crucifixion Gift Wall Cross Tomaso Cross in Box with Certificate
RCIA Jesus gift cross  :

Rite of Christian
Initiation of Adults
Elegant box and certificate.
I am the Way, the Truth, and the Life.

John 14:6

  Called by God, you have enriched your wisdom, faith,
and love. Cherish your commitment to the way of
Christ. May you experience His love and His life
as you grow in your faith and follow in His footsteps.

On this joyous day, may you always remember
God's blessing, grace, and everlasting love for you.

With great joy we celebrate your new life as a Catholic.

You are truly a blessing to us and a gift to the Church.

Congratulations. Alleluia!

To:_____
From:_____
Date:_____

Material: Resin
Size: 7-1/2" H
Prayer before a Cross Christian or Catholic gift.
This elegant collection of crosses from the highly acclaimed Tomaso brand offers great value at an affordable price. Every beautifully detailed resin cross is accompanied by a presentation certificate, as well as a distinctive quality gift box.
Made of Resin -- 7 1⁄2" H