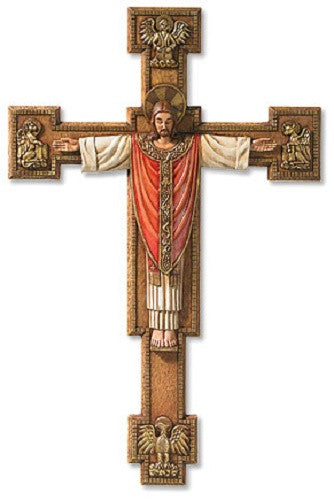 Risen Jesus Christus Rex Wall Cross
Risen Jesus Christus Rex Wall Cross
Christus Rex is Latin meaning Christ The King. One of the most striking and meaningful images in Christian art is the Christus Rex, Christ the King, "reigning from the Tree."
Canon Vernon Staley, the Anglo-Catholic scholar, wrote in his 1904 Ceremonial of the English Church:
"It is not well to regard the Eucharist as commemorative solely of the death and passion of our Lord, and to forget that it is also the memorial of His mightly resurrection and glorious ascension. In thus emphasizing His humiliation at the expense of His exhaltation some have been led to associate the crucifix with the altar rather than the cross of glory. In connection with this, it may be pointed out that our Lord in glory is a much more suitable subject. . .over the altar, than our Lord crucified."
Christ the King is a title of Jesus based on several passages of Scripture. It is used by most Christians. The Catholic Church and many Protestant denominations, including Anglicans, Presbyterians, Lutherans and Methodists, celebrate the Feast of Christ the King on the Sunday before the first Sunday of Advent, the Sunday that falls between 20 and 26 November, inclusive.
Beautifully detailed Christus Rex Crucifix from the Val Gardena collection. "Val Gardena" is named for the region in Italy where the world's best carvers and painters of religious statuary ply their trade. This Crucifix would make a cherished gift for any Catholic Christian. Perfect for birthday, Baptism, Confirmation, or any other special gift-giving occasion!
Made of Resin
Measures 13" H