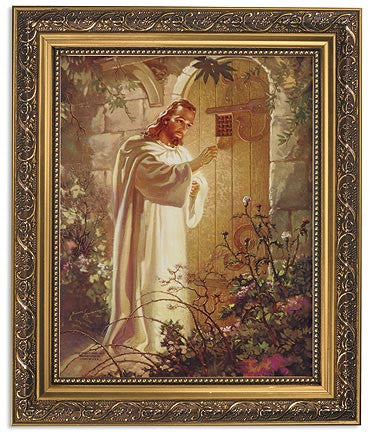 Jesus Knocking On Door Print In Ornate Gold Frame By Warner Sallman
Jesus Knocking On Door Framed Print By Warner Sallman
Revelation 3:20-22
20 Behold, I stand at the door, and knock: if any man hear my voice, and open the door, I will come in to him, and will sup with him, and he with me.
21 To him that overcometh will I grant to sit with me in my throne, even as I also overcame, and am set down with my Father in his throne.
22 He that hath an ear, let him hear what the Spirit saith unto the churches.
Beloved reproduction print of Christ At Heart's Door by Artist Warner Sallman. Framed print with vivid color and detail. Would be a wonderful addition to your home, office or church decor. Includes Easel Back and Metal Hangers for Wall Mounting. A wonderful gift for any Christian.
Print Measures at 8" x 10" H and then put into frame with glass.