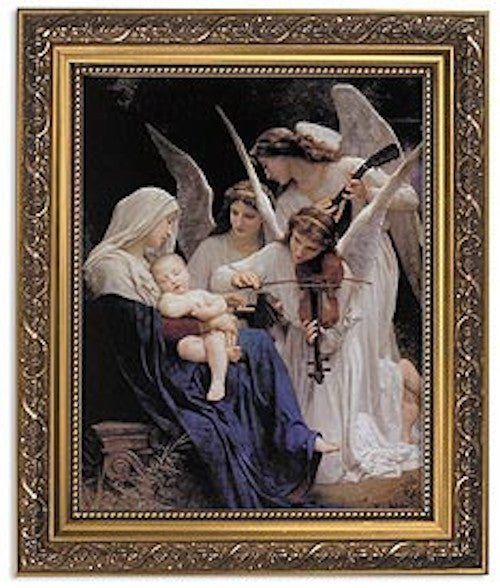 Song Of The Angels Framed Print By Artist Bouguereau In Ornate Gold Frame
Song Of The Angels Framed Print By Artist Bouguereau
Ornate Gold frame with glass
Measures at 11" x 13" H
Includes Easel Back and Metal Hangers for Wall Mounting.
Beautiful print by artist William Bouguereau entitled "Song of the Angels". Deep, bold color and amazing detail in this stunning painting which depicts three angels serenading the Madonna and Infant Jesus. A beautiful show of faith for your home, office, or church decor. Would make a meaningful gift for any Christian person.
William Bouguereau was a French academic and traditionalist painter. He was born in 1825 and died in 1905. His techniques were modernized interpretations of the classical subjects. He won many awards and titles in both France and the United States and reigned in popularity among art collectors in both countries as well. At a time when the impressionist artists dominated the scene, his works did not go 

unnoticed

. He remained sought after regardless of the feelings of his colleagues.