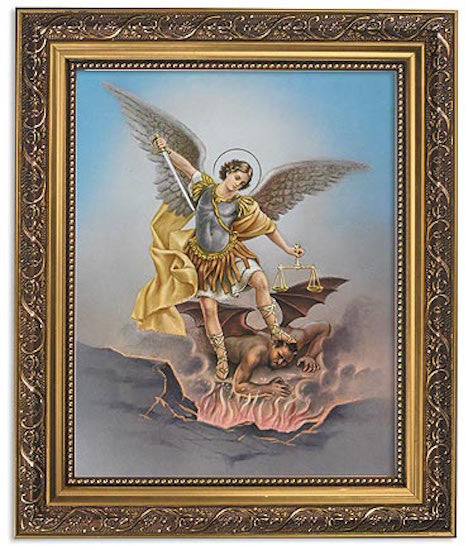 Saint Michael The Protector Print In Ornate Gold Frame
Saint Michael The Protector Print In Ornate Gold Frame Under Glass
Includes Easel Back and Metal Hangers for Wall Mounting
Measures 11" W x 13" H 
Series 79 Bestsellers 8" x 10" Print in Ornate Gold Finish Frame
Exciting framed print of Saint Michael, the Archangel, in battle with Satan. Brilliant color and amazing detail make this beautiful piece of art the perfect addition to your home, office, or church decor. Includes Easel Back and Metal Hangers for Wall Mounting. Would make a fantastic gift for any Christian home.
The word "Michael" means "Who Is Like God?" in Hebrew. He is the leader of the Archangels in God's army. St. Michael is stated in the Book of Daniel as "a great prince who stands up for the children of your people". He became known as an advocate of the Jews. St. Michael leads God's army against Satan's forces in the Book of Revelation. During that war, he defeats Satan.
The Feast Day of St. Michael is November 8. His patronage includes the Guardian of the Catholic Church, Kiev, Guardian of Vatican City, Protector of the Jewish people, Police Officers, Military, Grocers, Mariners, Firemen, Paratroopers, and Sickness.