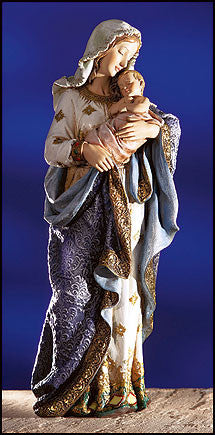 Loving Madonna and Child Catholic Church Statue - Ave Maria Statue 23.5"
Ornate Hand painted Loving Madonna and child Church statue
The Ave Maria Collection celebrates Mary, Mother of Jesus, who has inspired artisans, crusaders, saints and mothers worldwide. With Jesus Christ from birth to crucifixion, Mary's character illustrated devotion, mercy, compassion and deep love. The Ave Maria Collection expresses these sentiments in exquisitely sculptured figurines. Each inspired piece in the collection is artfully designed as a depiction of Mary's beauty and grace.
Each Madonna Figurine in the Ave Maria Collection comes in a classically elegant gift box, perfect for gift giving. 
Resin/Stone -- 23.5" H