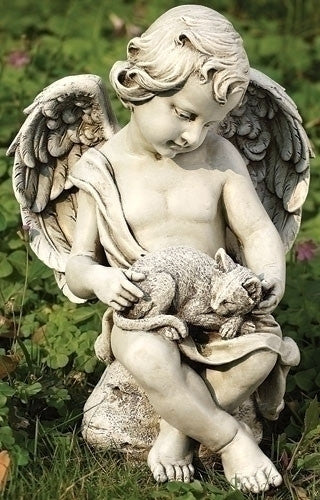 Angel Cherub Holding A Kitten Garden Statue Joseph Studios
Angel Cherub Holding A Kitten Garden Statue From Joseph Studios
On Angel Wings
On angel wings you do fly
On angel wings into the sky
On angel wings i do cry
Because those angel wings took you away
On angel wings the heralds sing
Is there no such lovely thing?
On angel wings you fly away.
I will see these angel wings again someday
When i am old and my time has come
On angel wings I will fly
Until I'm holding you once again
Smiling on angel wings.
--- Troy Nichols
Sweet little Angel Baby holding kitten garden statue from the Joseph Studio's Garden Statuary Collection. A weathered stone look and brilliant detail brings a bit of delightful whimsy to your garden. Suitable for Memorial Gift or grave site decoration, especially for miscarriage or loss of a child. A meaningful gift for any Christian person.
Made of Resin and Stone Mix
Measures at 12"H 8.25"W 7.5"D