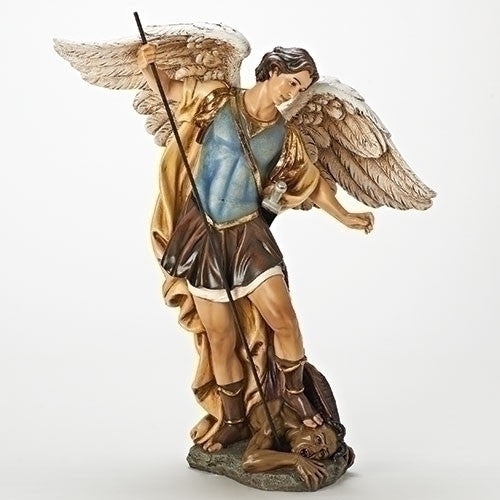 Archangel Saint Micheal With Sword Amazing St Of Protection
Archangel Saint 
Michael Hand Painted Protection Statue Bright colors and amazing details. This is a very high quality statue. 
O glorious St. Michael, guardian and defender of the Church of Jesus Christ, come to the assistance of this Church, against which the powers of hell are unchained, guard with especial care her august Head, and obtain that for him and for us the hour of triumph may speedily arrive. O glorious Archangel St. Michael, watch over us during life, defend us against the assaults of the demon, assist us especially at the hour of death; obtain for us a favorable judgment, and the happiness of beholding God face to face for endless ages.
Amen.
Captivating Saint Michael The Archangel statue from the Joseph Studio's Renaissance Collection. Standing upon an ornate base, St. Michael stands with sword ready to battle evil. Bright, beautiful color, gold accents, and amazing detail make this an elegant devotional addition to your home, office or church. Popularly used as a devotional statue for first responders, firemen, police, and military. Perfect gift for any Christian person on any gift-giving occasion!
Made of Resin and Stone Mix
Measures at 

18.75"H X 15.5"W
* Oversized box sent via ups