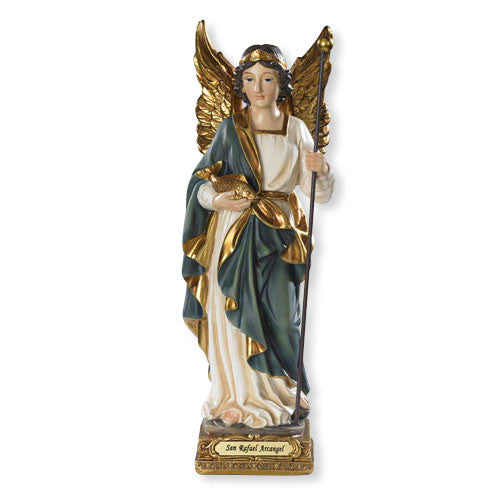 Saint Rafael Guardian Angel Statue From The Barcelona Collection
Saint Rafael Guardian Angel Statue From The Barcelona Collection
St. Raphael's name means "Medicine of God" in Hebrew. He is one of the seven Archangels that stand before the throne of God, chanting hymns of unending praise. We pray for his help and he intercedes directly to God in our favor. He is one of the three angels mentioned by name in holy scripture.
St. Raphael appears in the deutero-canonical Book of Tobit where he heals Tobit of blindness, protects and guides Tobias on his travels, and delivers Sarah from an evil demon. They all prayed for deliverance and God sent St. Raphael. The longest recorded speech of an angel is Chapter 12 of the Book of Tobit.
Raphael is the Archangel of God's mercy and light. He comes to bring healing and is the medicine of God. He comes to relieve the ills of burden, suffering, and to restore God's people to the truth of God's love and mercy. He gives graces given over to him by the Father and glorified by the Son's love for mankind. He is the Archangel of God's mercy, and sheds His grace through holy priests. He brings us the good news of God's mercy and grace. Raphael is the healing and deliverance Archangel, and the patron of travelers, physicians, happy meetings and marriages. His feast day is September 29th.
This stunning, Spanish inspired statue of the Archangel Raphael from the Barcelona Collection, is hand-painted in exquisite detail and with gold accents. A Spanish nameplate rests upon the base. A wonderful gift for Christian family and friends.
Made of Resin
Measures at 8" H