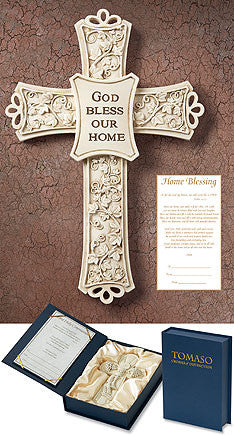 God Bless Our House Gift Cross
God Bless Our House Gift Cross Beautiful gift for house warming or wedding gift.
Card reads: Home Blessing As for me and my house, we will serve the LORD. Joshua 24:15 Bless our home, and make it fit for Thee, Oh Lord. Let our home be always filled with love and laughter. Bless our kitchen and fill it with the warmth of shared bread. Bless our family room and fill it with loving communication. Bless our bedrooms and fill them with peaceful slumber. Send your Holy Spirit into each nook and cranny. Make our home a sanctuary that protects against the turmoil of our world and inspires family ties, true friendships,and everlasting love. Grant happiness, comfort, peace, and joy to all who dwell in this home and to all who visit this home.
Amen To _________________________
From _________________________
Date __________________
Made of Resin
Measures 7 1⁄2" H