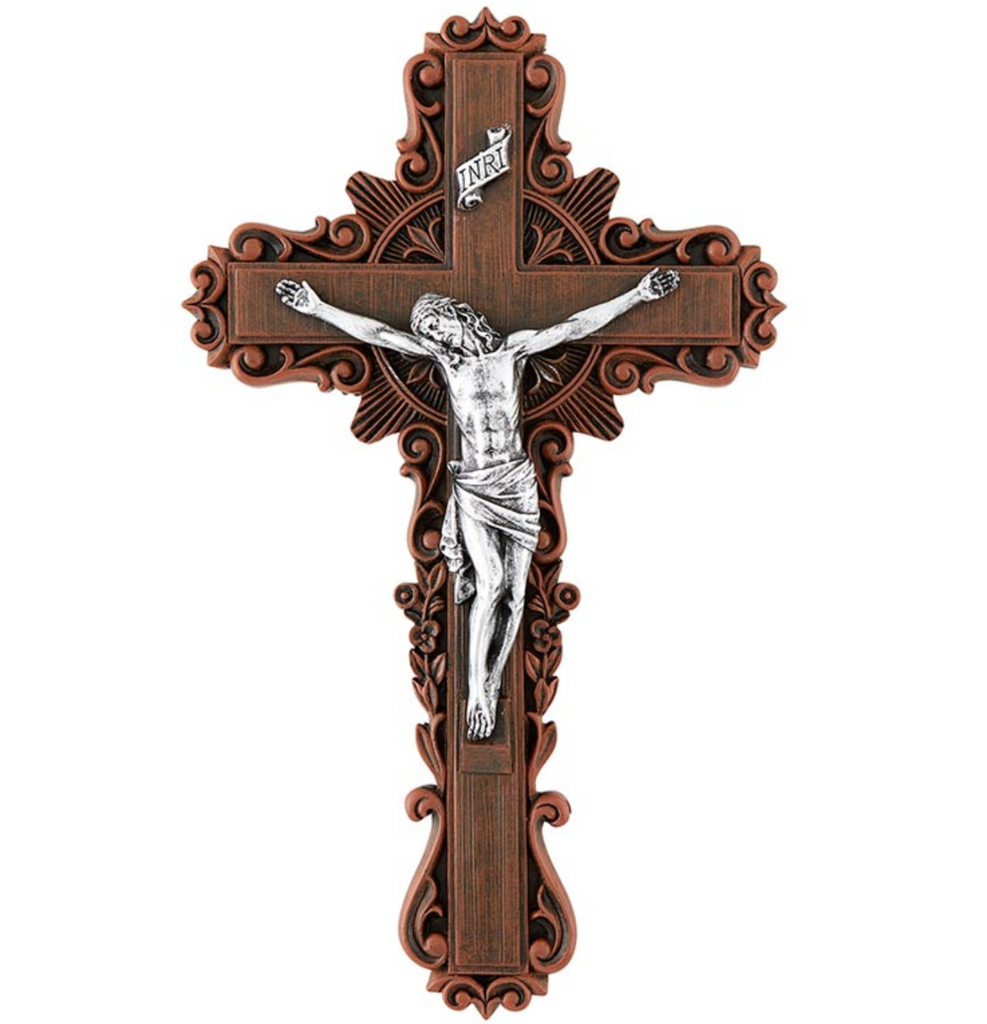 Jesus Calvary Ornate Pastoral Wall Crucifix
Jesus Calvary Ornate Pastoral Wall Crucifix
Prayer to Jesus Crucified:
Here I am, good and gentle Jesus, kneeling before you. With great fervor I pray and ask you to instill in me genuine convictions of faith, hope and love, with true sorrow for my sins and a firm resolve to amend them. While I contemplate your five wounds with great love and compassion, I remember the words which the prophet David long ago put on your lips: "They have pierced my hands and my feet, I can count all my bones." (Psalm 22/17-18).
Calvary, also Golgotha, was, according to the Gospels, a site immediately outside Jerusalem's walls where Jesus was crucified. Golgotha is the Greek transcription in the New Testament of an Aramaic term that has traditionally been presumed to be Gûlgaltâ. The Bible translates the term to mean place of the skull, which in Latin is Calvariæ Locus, from which the English word Calvary is derived.
The term Calvary has been precious to believers who use the King James Bible for hundreds of years. Jesus, who knew no sin, became as sin; that we who knew no righteousness, could be made the righteousness of God... "For he hath made him to be sin for us, who knew no sin; that we might be made the righteousness of God in him."
Beautiful Calvary Pastoral Crucifix in stunning detail! Wood look cross with silver finish body of Christ. An elegant addition to the decor of any Christian Home or church and a great gift for clergy, birthdays, Christmas, or any special gift-giving occasion!
Made of Resin
Measures 6"W x 10" H