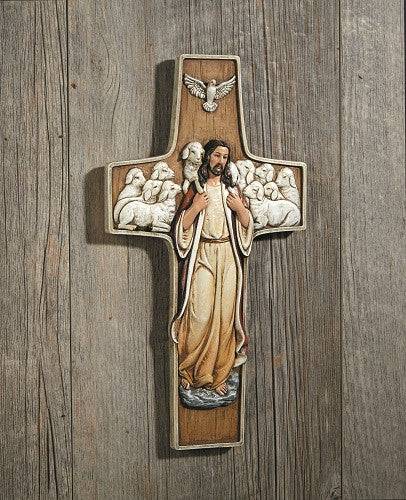 Jesus the Good Shepherd Wall Cross
Jesus the Good Shepherd Wall Cross
Prayer to Jesus, The Good Shepherd:
Good Shepherd of the flock, you tend and feed and protect your chosen people and only ask us to put our trust in your loving care. As host you entertain us at your welcome table and anoint us with your Holy Spirit. Make us ever thankful for all your blessings, O Savior of the world, living and reigning with the Father and the Holy Spirit, now and for ever.
AMEN
The Gospels all testify that Jesus of Nazareth was crucified on Golgotha, a Hebrew word meaning "the Place of the Skull". It was on this hill of Calvary, just outside Jerusalem, that Jesus took upon Himself the sins of the world, as He was scourged, crowned with thorns, crucified and pierced through the heart for our salvation, the ultimate act of love - His Crucifixion .
Stunning, image of Jesus The Good Shepherd with His flock, detailed in full color on a textured wood look wall cross. A perfect addition to the decor of any Christian Home and a great gift for clergy, birthdays, Christmas, or any special gift-giving occasion! Each crucifix comes elegantly packaged in a gift box.
Made of Resin
Measures 10" Hx 5.5"L x 1.25" D