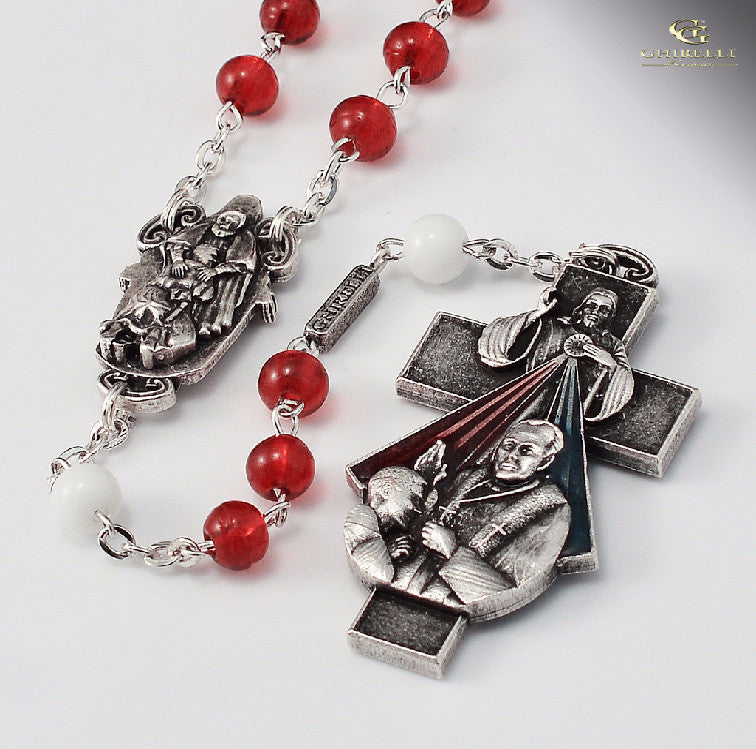 Jubilee Year Of Mercy Rosary Bohemian Glass By Ghirelli
Jubilee Year Of Mercy Rosary Bohemian Glass By Ghirelli
One of our most unique designs, exclusive for the Jubilee of Mercy. Available in red glass beads with white glass Our Father beads, both in 6 mm. "The white ray represents the water that purifies the souls; the red … the blood that is the life of the souls." From the "Diary of Saint Faustina Kowalska" Red and blue enamel on Crucifix. In antique silver finish. Silver plated finish with Ghirelli brand plate.
The Centerpiece: on one side a wonderful sculpture of the Immaculate Mother of Mercy and Refuge of Sinners, on the reverse side, expressing the joy of forgiveness, the beautiful reproduction in bas-relief of Rembrandt's "The Return of the Prodigal Son", dated 1668. The Crucifix: signifies God's Mercy: Penance, Confession, Remittance of Sins.
MERCIFUL JESUS:
"O Eternal Love, You command Your Sacred Image to be painted and reveal to us the inconceivable fount of mercy. You bless whoever approaches Your rays, and a soul all black will turn into snow. O sweet Jesus, it is here You established the throne of Your mercy to bring joy and hope to sinful man. From Your open Heart, as from a pure fount, flows comfort to a repentant heart and soul." -- From the "Diary of Saint Faustina Kowalska"

THE SYMBOL OF THE DOVE, THE HOLY SPIRIT:
And when he had said this, he breathed on them and said to them, "Receive the holy Spirit. Whose sins you forgive are forgiven them, and whose sins you retain are retained."John 20:22,23
Shipped with complimentary hypoallergenic leatherette pouch with Vatican logo.
Rosary 20" Crucifix 2-3/16"