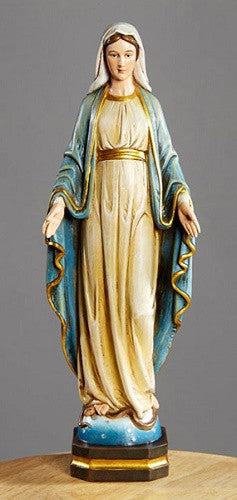 Madonna Our Lady of Grace Statue
Madonna Our Lady of Grace Statue
Our Lady of Graces or St Mary of Graces is a devotion to the Virgin Mary in the Roman Catholic Church. Churches with this dedication often owe their foundation to thankfulness for graces received from the Virgin Mary. Our Lady of Graces is the patron saint of the diocese of Faenza. According to a legend, in 1412, Mary appeared to a local woman. Mary was holding broken arrows symbolizing protection against god's wrath and promised an end to the plague. The feast day of Our Lady of Grace is February 7.
Beautiful high quality statues developed using the time-honored sculpting techniques that are found in the finest statues from the Val Gardena Valley of northern Italy. Precisely sculpted and beautifully painted by hand with utmost care by master craftsmen, each resinware statue is a true work of art and quality. These stunning statues would be a wonderful addition to any Christian home or church. A beautiful gift for clergy, birthday, wedding, or any other special gift-giving occasion!
Packed in full styrofoam inside a full color gift box.
Made of Resin
Measures 4-7/8" x 2-7/8" x 12-3/4" H