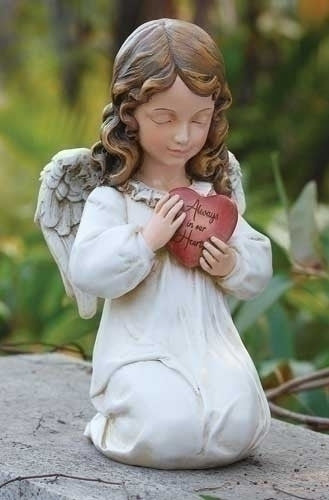 Memorial Angel Figure Always In Our Hearts For Garden Patio Or Home
Memorial Angel Figure Always In Our Hearts For Garden, Patio, Or Home
Another Leaf Has Fallen
Another leaf has fallen,
another soul has gone.
But still we have God's promises,
in every robin's song.
For he is in His heaven,
and though He takes away,
He always leaves to mortals,
the bright sun's kindly ray.
He leaves the fragrant blossoms,
and lovely forest, green.
And gives us new found comfort,
when we on Him will lean.
Sweet garden angel girl holds a heart that says, "Always In Our Hearts". Beautiful, life-like detail. A heartfelt addition to home or garden decor. Would make a lovely memorial gift or grave site decoration. A wonderful gift for anyone.
Made of Resin and Stone Mix
Measures at 11.75"H 6.25"W 6.88"D