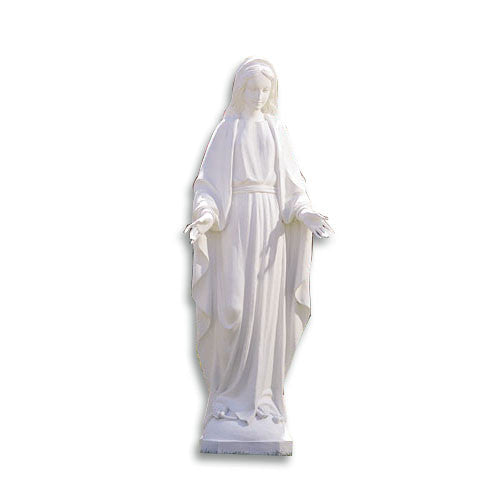 Our Lady Of Grace Huge 58" Garden Or Church Statue
Our Lady Of Grace Huge 60" Garden Or Church Statue
Made of Polyresin
Measures at 58" H
Gorgeous Our Lady of Grace Statue for church, chapel, garden, or cemetery. White stone look statue from Val Gardena Statues. Inside or out, these durable statues are treated to withstand rain, snow, wind, and heat. They will not crack, fade, yellow, or peel. A beautiful addition for your home, church, or grave site decor. Would make a cherished gift for any Christian or to your church!
Our Lady of Grace is also known as St. Mary of Graces. She is a devotion to the Virgin Mary. She is the patron saint to the diocese of Faenza. It is said that She appeared to a local woman there in 1412. She was holding broken arrows to symbolize protection against God's wrath and she promised to end the plague afflicting Faenza. The Faenza Cathedral has dedicated a chapel to Our Lady of Grace and residents of that area place ceramic tiles with her image on the walls of their homes.
There are numerous other Our Lady of Grace Shrines around the world including Santa Maria delle Grazie, Italy; Basilica of Our Lady of Graces, India; and Diocesan Shrine of Our Lady of Grace, in the Philippines. She is the patron saint of Faenza as well as other Italian towns including Minturno, Cautano, Decimoputzu, Nettuno (where Nostra Signora delle Grazie e Santa Maria Goretti is part-dedicated to her), Ricadi, Sanluri, and Toritto.