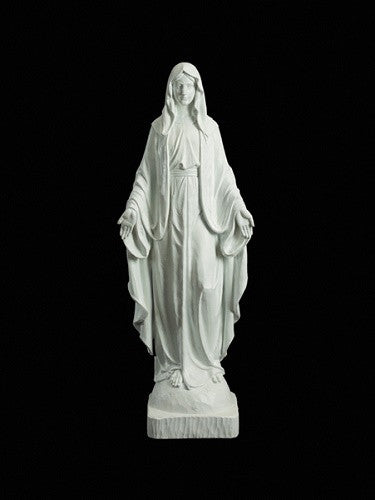 Our Lady Of Grace Indoor Outdoor Church Statue 48" Tall
Our Lady Of Grace Indoor Outdoor Church Statue 48" Tall
Prayer to Our Lady of Grace:
O heavenly treasurer of all graces, Mother of God and my mother Mary, since you are the first-born daughter of the Eternal Father and hold in your hands his omnipotence, be moved to pity my soul and grant me the graces which I fervently ask of you.
Our Lady of Graces or St Mary of Graces is a devotion to the Virgin Mary in the Roman Catholic Church. Churches with this dedication often owe their foundation to thankfulness for graces received from the Virgin Mary. Our Lady of Graces is the patron saint of the diocese of Faenza. According to a legend, in 1412, Mary appeared to a local woman. Mary was holding broken arrows symbolizing protection against god's wrath and promised an end to the plague. The Feast Day of Our Lady of Graces is February 7.
Beautifully detailed statue of Our Lady of Grace for church, chapel, garden or cemetery. These white wood replica Val Gardena statues are specially treated to withstand rain, snow, wind and heat for many years to come. Tested outside under extreme conditions, these statues won't crack, fade, yellow or peel. A beautiful gift for clergy or church or any Christian home.
Made of Resin
Measures 48" H