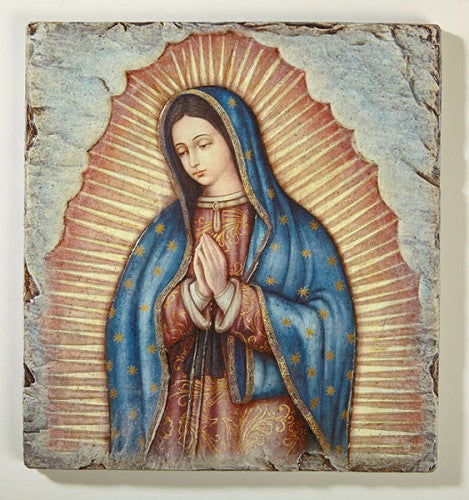 Our Lady Of Guadalupe Icon Plaque By Artist Marco Sevelli
Our Lady Of Guadalupe Icon Plaque By Artist Marco Sevelli
A Prayer To Our Lady of Guadalupe:
Our Lady of Guadalupe, Mystical Rose, make intercession for holy Church, protect the sovereign Pontiff, help all those who invoke you in their necessities, and since you are the ever Virgin Mary and Mother of the true God, obtain for us from your most holy Son the grace of keeping our faith, of sweet hope in the midst of the bitterness of life of burning charity, and the precious gift of final perseverance.
Amen.
The Virgin of Guadalupe is the patron saint of Mexico. She is depicted with brown skin, an angel and moon at her feet and rays of sunlight that encircle her. The appearance of Our Lady of Guadalupe to the Aztec Indian Juan Diego in December of 1531 generated the conversion of Mexico and Latin America to Catholicism. Indeed, the Blessed Virgin Mary entered the very lifestream of Central America and became an inextricable part of Mexican life and a central figure to the history of Mexico itself. Her appearance in the center of the American Continents has contributed to the Virgin of Guadalupe being given the title "Mother of America." Her Feast Day is December 12.
Stunning, image of the Blessed Mother, Our Lady of Guadalupe, detailed in full color on a textured tile surface creates a new way to display this art as home decor. Each finely detailed tile can be hung on the wall or placed on the wire stand included as part of a freestanding vignette. Each Marco Sevelli plaque comes with an elegant gift box. A beautiful gift for Birth or Baptism or any special gift-giving occasion!
Made of Polyresin
Measures 8" x 10"