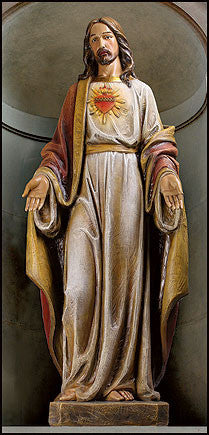 Sacred Heart of Jesus Basilica Church statue 48" Tall
Beautiful Sacred Heart Of Jesus Basilica Church statue Made of Resin 48" tall Hand painted to ensure every detail is beautiful.
A beautifully rendered line of European style church-sized statues. Made from an Italian artist's drawing, and hand crafted and hand painted from start to finish, each piece honors the beauty and character of the fabulous wood statues of old. The statues are lovingly treated and painted so that every Basilica wood replica retains its natural hand carved look. Each sturdy resin replica is moulded and reproduced in exact detail. Artisans devotedly paint these perfectly shaped figures with vibrant oils, highlighting each stroke of the carver's blade. These Milagros exclusive statues will make an excellent addition to any church or chapel setting. Brand new in box and is very heavy statue Very high quality statue.
Shipped via special Freight.
Measures 48" Tall
This statue is truly a work of art and will bring blessings to any church or chapel.