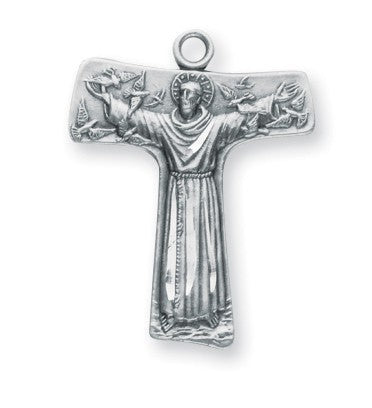 Saint Francis of Assisi Tau Sterling Silver Cross Medal On Chain
Saint Francis of Assisi sterling silver "Tau" cross medal depicts him with birds and dressed in his Franciscan friar's robe. The 1" pendant is die struck from the finest grade sterling silver which enables the intricate details to fully show when hand polishing is applied by New England Silversmiths.
Hand engraving is then administered to the medal, followed by by a layer of protective lacquer to help prevent tarnishing.
Saint Francis is the Patron Saint of Animals, Peace, Ecology, and Merchants.
Supplied with a 24" genuine rhodium plated endless chain in a deluxe velour metal gift box.
St. Francis prayer
 Lord, make me an instrument of Your peace. Where there is hatred, let me sow love; where there is injury, pardon; where there is doubt, faith; where there is despair, hope; where there is darkness, light; where there is sadness, joy.

O, Divine Master, grant that I may not so much seek to be consoled as to console; to be understood as to understand; to be loved as to love; For it is in giving that we receive; it is in pardoning that we are pardoned; it is in dying that we are born again to eternal life.