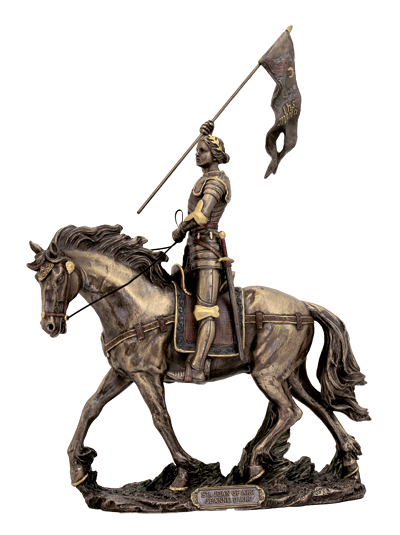 Saint Joan Of Arc On Horse Statue Veronese Collection
Saint Joan Of Arc On Horse Statue from the Veronese Collection. 
Patron Saint of France and the Military. A brave young girl who was said to have heard the voices of St. Michael, St. Catherine, and St. Margaret. Saint Joan informed the military and became a very important. Joan dressed as a man so that she would be safe as she rode through the battle fileds. Joan is depicted carrying a banner. Saint Joan's feast day is May 30th.
St. Joan was canonized in 1920 by Pope Benedict XV.
Made of Resin and finished in a rich faux cold cast bronze finish to give the rich look and feel of metal. A very high quality gift that is sure to impress.
Measures 10 x 11 inches tall.