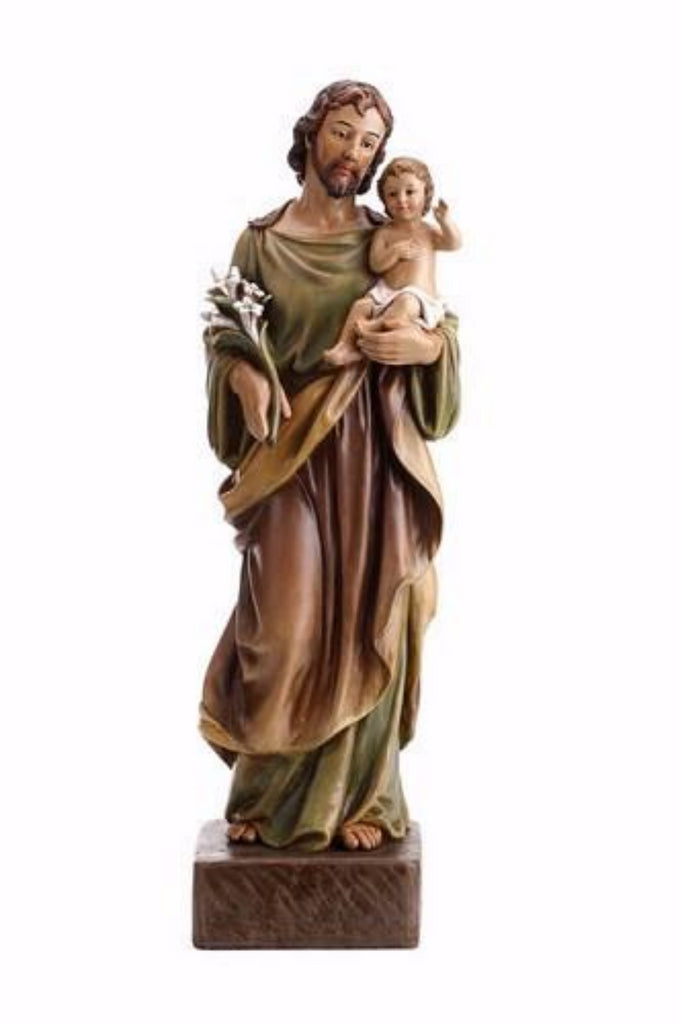 Saint Joseph With Infant Jesus Statue Large 24 Inch Tall
Saint Joseph With Infant Jesus Statue
Made of Polyresin
Measures at 24" H
Beautiful statue of St. Joseph with the Infant Jesus and Lilies by the Val Gardena Collection. Rich color on a carved wood-look statue with amazing life-like detail. An elegant statement of faith for your home, office, or church decor. Would make a cherished gift for any Christian or Church.
St. Joseph is best known as the husband of the Virgin Mary and foster father of Jesus Christ. He was a carpenter and chosen by God to marry the Virgin Mary and raise Jesus. He is an example of husbands and fathers and a pillar of the family unit.
St. Joseph has two Feast Days. March 19 is the Feast Day of Saint Joseph, the Husband of Mary. May 1 is the Feast Day of St. Joseph the worker. St. Joseph's attributes include Carpenter's tools, the Infant Jesus, a staff with Lily blossoms, two turtle doves, and a rod of spikenard. His patronage includes the Catholic Church, unborn children, fathers, immigrants, workers, employment, carpenters, realtors, against doubt and hesitation, and of a happy death, Canada, Croatia, Korea, Vietnam, Mandaue City, Cebu, and the Philippines.