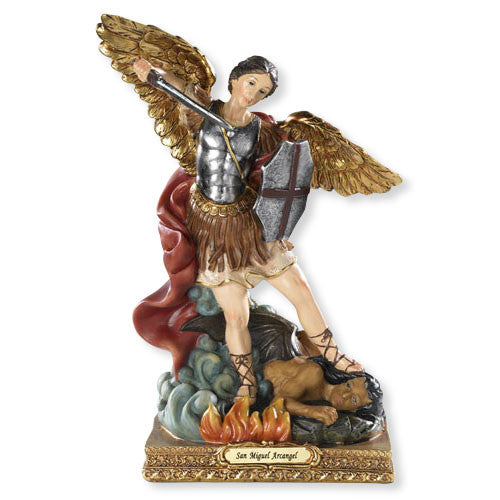 Saint Michael Archangel Of Protection Statue
Saint Michael Archangel Of Protection Statue
Saint Michael the Archangel is really not a saint, but an angel. He is the leader of all angels and of the Army of God. He has the title "Archangel" and it means, that he is above all the others in rank. He has four responsibilities: To combat Satan, to escort the faithful to heaven at their hour of death, to be a Champion of all Christians and the Christian Church, and to call men from earth to their heavenly judgement.
In the Bible, St. Michael was the one who helped Daniel. In Daniel it is also said he will stand for the 'Children of they People'. In the Epistle of St. Jude, he is said to guard the tombs of Moses and Eve and fought with Satan over the body of Moses. In Revelation, St. Michael and his angels do battle with the dragon.
St. Michel is invoked for protection, especially from lethal enemies. He is also the patron of soldiers, police, doctors, grocers, mariners, paratroopers, and sickness. His Feastday is September 29.
This gorgeous statue was inspired the craftsmanship of Spanish artisans. From the Barcelona Collection, this statue of Saint Michael, the Patron Saint of Protection, is hand-painted in exuisite detail and gold accents. Spanish nameplate on the base. A heartfelt gift for Christian family and friends and those who need protection such as Armed Forces and First Responders.
Boxed.
Made of Resin
Measures at 8" H