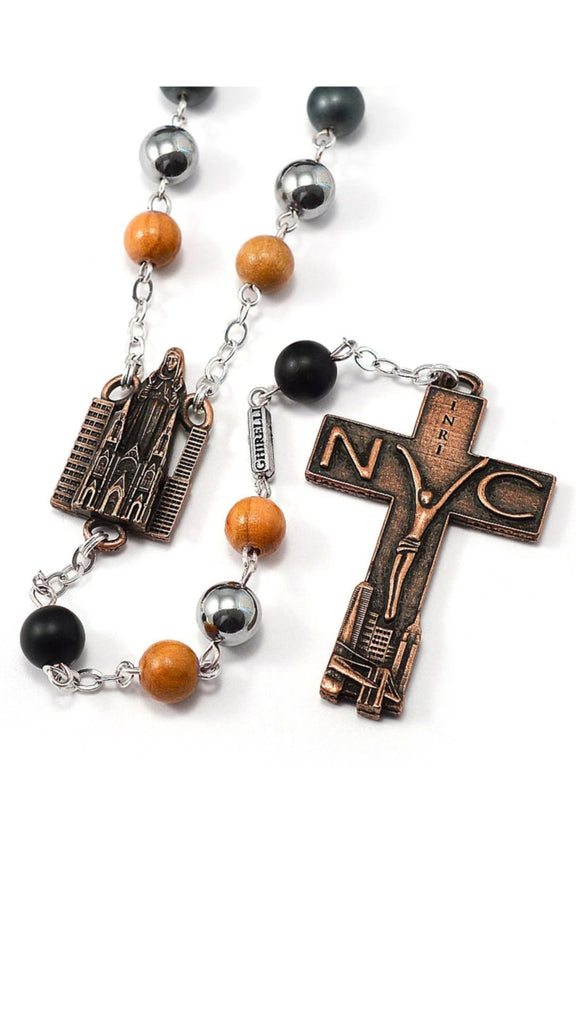 The Rosary for New York City by Ghirelli
The Rosary for New York City by Ghirelli
A rosary collection that's the first of its kind -- dedicated to New York, a city where sincere friendships were born with First Responders during tragic events, police officers and firefighters, extraordinary people who, over the years, have entered into the heart of Ghirelli's creations.

The faithful will discover clean and simple design lines, as well as the meaning behind the concepts that make this Collection truly unique.

You will also see in this collection Jesus at the center not only in daily life but throughout history.

Our designers created this concept by seeing in the letter "Y" Jesus Crucified with arms extended, whose Mercy comes down to the heart of NYC.

On the back of the Crucifix are the unmistakable foundations of the Twin Towers, symbolizing the rebirth of the NYC from the sea of pain, a new life that does not forget its innocent victims.

Among its arms the Cathedral of St. Patrick, unmistakable symbol of Christianity of the New York people.

The original and new colors create vast emotions, the bead design combination conceptualized by Elisa, head of the Ghirelli creative studio -- mixing atmospheres with lightness and elegance. The contrasts between vintage and modern always gives new and surprising effects.
Italian Olivewood round beads in 8 mm size, semi-precious natural Hematite stone in 8 mm size, semi-precious Hematite hard stone in 8 mm size and Satin finish and hard stone beads in Agate Black and 8 mm size in Satin finish.
Crucifix: A unique and exclusive design dedicated to New York City. The arms of Christ rising from the skyline of the city take part in the initials "NYC". A unique treatment of the memory of the Twin Towers appears on the back.Finish: Antique silver. Antique Copper Components
Style: Contemporary
Signature: Ghirelli Branding Bar shows authenticity and Made In Italy Quality Assurance