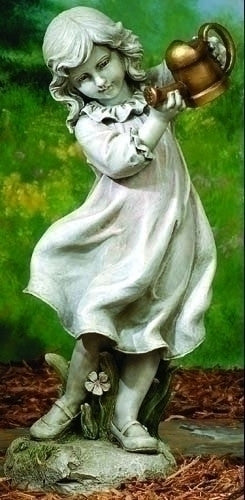 Little Girl Holding Watering Can Large Size Garden Figure From Joseph Studios
Little Girl Holding Watering Can Large Size Garden Figure From Joseph Studios
Mary, Mary, quite contrary,
How does your garden grow?
With silver bells, and cockle shells,
And pretty maids all in a row.
Sweet Little Girl watering her garden with a Golden Watering Can. Garden statue from the Joseph Studio's Garden Statuary Collection. From the curls in her hair to the buckles on her shoe, no detail is left undone. A weathered stone look will bring a bit of cheer to your garden. A fun and whimsical gift for anyone!
Made of Resin and Stone Mix
Measures at 22"H 10.5"W 11"D