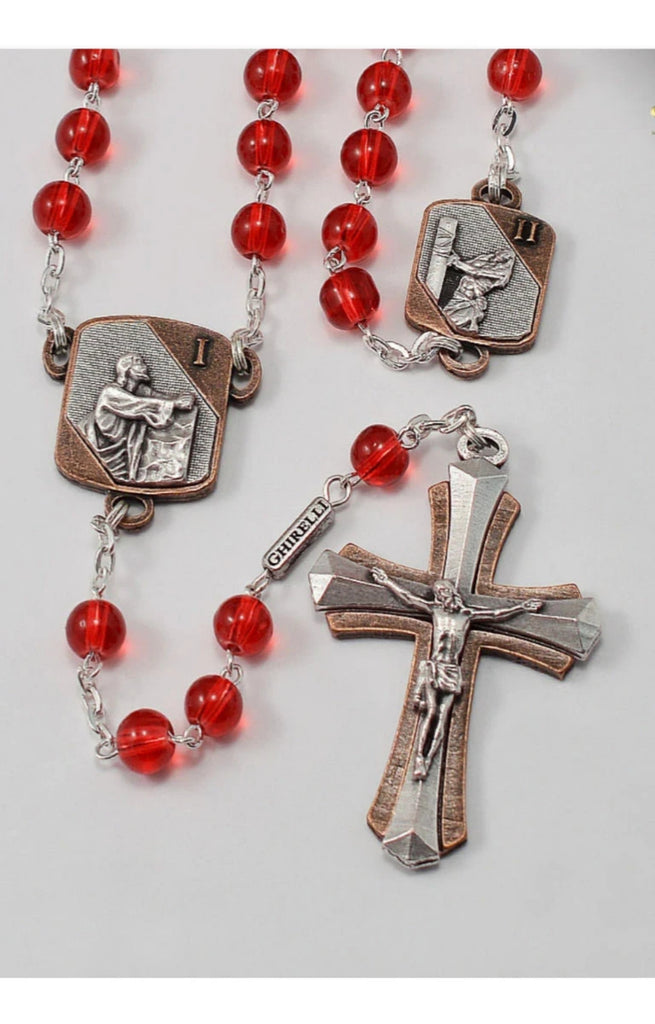 Sorrowful Mysteries Rosary By Ghirelli Mysteries Of The Rosary Collection
Sorrowful Mysteries Rosary By Ghirelli  
"In our prayers let us bring God our daily crosses, in the certainty that He is present and listens to us. The cry of Jesus reminds us that in prayer we must cross the barrier of 'self' and our own problems, and open ourselves to the needs and sufferings of others. May the prayer of the dying Jesus on the cross teach us to pray with love for so many brothers and sisters who feel the burden of daily life, who are experiencing moments of difficulty, who suffer and hear no words of comfort, that they may feel the love of God Who never abandons us." -- Pope Emeritus Benedict XVI on his 2012 Reflection on the final prayer of Jesus on the Cross
"Behold, the hour is coming and has arrived when each of you will be scattered to his own home and you will leave me alone. But I am not alone, because the Father is with me. I have told you this so that you might have peace in me. In the world you will have trouble, but take courage -- I have conquered the world." John 17:32-33.
From the early days of Christianity, faithful followers of Our Lord Jesus have focused on specific events of Our Lord's Passion. Through these contemplations one is to find the culmination of the revelation of God's infinite love and mercy -- which is the source of our salvation.
Our new Sorrowful Mysteries Rosary -- part of Ghirelli's exclusive and original Mysteries Of The Rosary Collection -- encourages you to walk along with Jesus on the Way to the Cross -- where he waits for us with open arms.
Medals in our Sorrowful Mysteries Rosary present in great depth and detail all five of the Sorrowful Mysteries:
The Agony of Jesus in the Garden

The Scourging at the Pillar
The Crowning with Thorns
The Carrying of the Cross
The Crucifixion and Death of Jesus
The Sorrowful Mysteries Rosary includes:
* Round 6mm Bohemian Glass beads, in red color
* Two-tone and two-piece Crucifix in antique silver and antique
copper 

finish
* The Decade components, with each individual Mystery numbered in order, includes a 3D highly detailed image depicting the specific Mystery on one side, and text announcement of the specific Mystery on the reverse side. Also in two-tone and two-piece antique silver and antique
copper 

finish
* High quality components and craftsmanship
* Crucifix Size: 1 1/4" x 3/4"
* Center Medal Size: 3/4" x 3/4"; Other Medal Size: 5/8" x 5/8"
* Durable lock-linking chain
* Double circular ring attachments
* An exclusive Ghirelli design
* Faux leatherette pouch included
* Approximately 22"
* International Guarantee included
* MADE IN ITALY